Mold Manufacturing
A successful part starts with a well-designed and precision-manufactured mold. This complex and precise process determines part manufacturability and lifecycle costs and takes into account the key components of mold design while adhering to a part's unique specifications. This is not only the start of a project, also the essence of pursueing a high quality project completion. In order to control every process finished with excellent quality, we dedicated in making plastic molds such as injection molds, roto molds, casting molds, stamping molds in house.



1.

Injection Mould




1.

Ultilizing NX Mold Design software to streamline our

2.

Roto Mould




design and product creation

3.

Die Casting Mould




2.

We utilize metal forming simulation software to verify

4.

Stamping Die



all of our forming process





1. CNC Machining



1.

Mold Maintenance

2. EDM / WEDM



2.

Mold Repair

3. Finishing



3.

Mold Modification

4. Mold Assembly






Confidence. Peace of mind. Reliability. For 15 years, Custom Mold & Design has earned the trust of the toughest, most demanding customers in the business—mold by mold. We are the people our customers trust with their most difficult and demanding tooling and mold component needs.
Whatever your tooling application requires – at Custom Mold & Design we do it all . . . and we do it better. We combine an experienced design and engineering team with highly advanced technology along with the best-in-class equipment in the industry. At every step you can expect careful consultation, attention to detail and customized services that meet your needs and produce quality results.

We have a numberous advanced CNC machines, such as 3 axis, 4 axis and 5 axis CNC center, EDM, grinding, turning & milling machines both automatic and manual. Those par excellence machines powered by our mechinists, we are sure that our customers will end up with a qualified mold and product. Our services as follow:

1. Injection Molding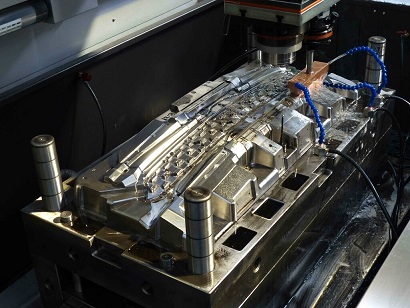 --Dual color injection molding tool
--Over molding tool
--Multi slides injection molding tool
--Hot runner injection molding tool
2. Rotational Molding Tool
3. Blow Molding Tool
4. Thermoforming & Vacuum Forming Tool
5. Investment Casting Mold
6. Stamping Mold (Progressive Die)
7. Deep Drawn Mold
8. Plastic & Metal Extrusion Mold
| | | |
| --- | --- | --- |
| | | |