Custom Mold Manufacturing
We specialize in high-tolerance, custom molds, from single cavity prototypes to large, multi-cavity production molds. Whether you provide approved mold designs or you work with our experienced team to develop the tooling design you require, we will ensure the best mold is built for your intended application.

Our facility is equipped with the latest technology to include high speed machining centers, wire EDM machines, and inspection technology. Click here to know more about our CNC machining abilities.
Our staff of skilled mold builders and machinists has the experience needed to delivery quality solutions for our customers. Using state-of-the-art mold design and building technologies, we offer mold manufacturing for the following types of tooling:
ü

Injection

ü

Die casting

ü

Rotational / Roto

ü

Compression

ü

Investment casting

ü

Blow

ü

Stamping

ü

Thermoforming

ü

Deep drawing

ü

Extrusion
Email to our sales team directly today info@ego-mfg.com
Custom Mold Manufacturing Flow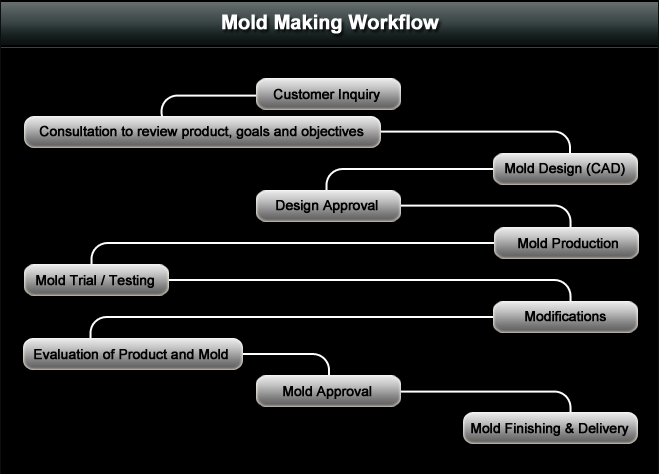 Tool Manufacturing with Swiss CNC Machining
Swiss CNC machining is another option for gaining the parts you need for tool and die making. This precision manufacturing uses CNC unit-operated lathes to rotate parts when cutting. These machines have a micromachining range of 1mm to 4mm diameter and each machine can perform multiple functions, saving additional time.

Along with creating parts of tool and die making, Swiss CNC machines can fabricating specialty jig and fixtures. Stop using makeshift fixtures which aren't secure and make work harder. These custom jigs can be made to your exact specifications through our Swiss CNC machining process. You'll have a completely accurate fixture for whatever work you do.
Tool and die makers require the most exact production to do their job right. 5 axis machining cuts across X, Y, and Z linear axes along with rotating on the A and B axes. The result is more complicated and precise geometries of cut pieces. Ego uses 5 axis machining to fabricate custom parts for use in tool and die making.

By using one machine to complete pieces, 5 axis machines save time in the production process. You get your finished parts faster since there is no need to move material between different machines.
Of course, your micromachining, 5 axis or Swiss CNC machining precision parts are only as good as the operators behind it, which is why you need Owens Industries experts.
Precision tool & die makers for any project, big or small, Contact to get your project started now.
Mold Manufacturing Video