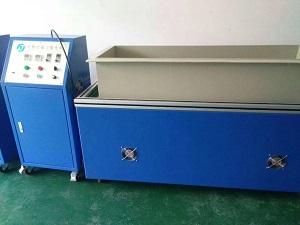 Magnetic polishing is also called magnetic abrasive polishing. It works via spinning magnets in the base that cause the stainless steel shot rods to tumble furiously fast and end-over-end in the bowl. It firstly is widely applied to jewlery polish as the pins are very slim, and the tiny pins could get into all the teeny tiny places that no other tumbler can get into. It is best suited for products with a lot detailed areas, like multiple heads, channel sets, charms with a lot of details.

Click here to see more surface capabilities at Ego Manufacturing Group.
Below are some pictures before and after magnetic polishing, so you can tell directly how this magnetic works out.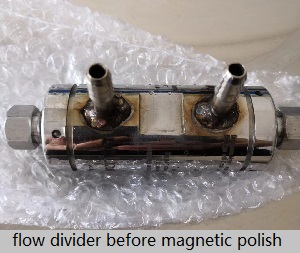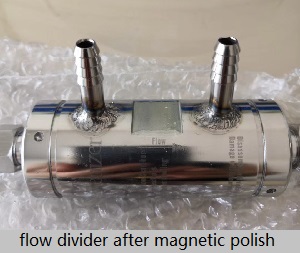 This steel flow divider has two welded extensions, as you can easily tell from those two pictures, the color of welding area is still has a different color, which approves that magnetic polishing is slightly peel off a extremly thin layer of material compared to other polishing.
And most importantly, the polishing process also take care of 'dead section' inside the holes. This is a good option for cosmetic finish.
We treat every project evenly precious, do our best effort to make the product look nice and qualified even sometimes customer doesn't need a nice look. Contact us today to get a value-added service info@ego-mfg.com